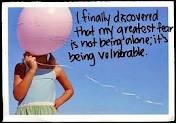 In my years of Counseling men and women, I have been hearing different versions of:
"I don't do vulnerability"
"I'm scared of being vulnerable"
"We don't show our vulnerabilities"
Many of us did not grow up with vulnerability role-models.
For generations, the message inherited and passed down was: vulnerability equals weakness.
Recently, Brene Brown has shared with the world her findings on shame and vulnerability.
Her last Ted talk, which I loved, and mentioned here Living With Your Story, has crowned her as the vulnerability expert.
In her new talk, she explains how giving her 'shame' talk has changed her life, and delves into the connection between vulnerability and shame as encountered in our social lives.
Brene Brown defines vulnerability as: "an emotional risk, exposure, uncertainty (that) fuels our daily life".
According to Brown, shame is a barrier to vulnerability, and, depending on gender, it 'shows up' differently:
For women it is in the discrepancy between who they are on the inside and what they are suppose to be like on the outside. As Brown puts it:
"The web of unattainable, conflicting, competing expectations, about who we are suppose to be".
For men, it is about the potential of perceived weakness.
Her loud message from her new Ted talk  is:
1)   Vulnerability IS the path to reconnecting back to each other.
2)   Shame grows on: secrecy, silence, and judgment. The antidote is: empathy.
3)  We connect to people who are daring to show courage through vulnerability, and authenticity.
"We want to be with you and across from you, and we want you to dare greatly". ~Brene Brown.