I have just returned from professional training with the wise and witty Brene Brown, more recently known as "Vulnerability Ted".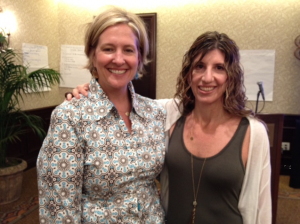 Yes, for three days, we were all "talking shame" and "speaking vulnerability", while dipping ourselves in Brene's research findings and therapeutic approaches.
I will not write here about ALL that I have soaked. (As an Introvert, I tend to soak a lot).
I will share one thing with you in this post.
The following is a letter written in "vulnerability" to a husband.
Yes, it is a language on its own.
Often, a language we keep to ourselves.
Often, we think: a language "he won't understand".
And yet, when we are daring greatly (to use Brene's words), we open ourselves to be seen in a way we haven't before.
(Please note: The following letter has been written by a mother to her husband. She has given me permission to share it with you).
A Letter to [a] Husband
I want to share my feelings about being a working mom with you, because I want you to understand my struggle.
I know that understanding this struggle is difficult.
There are times when it seems even I don't understand.
This struggle has provoked intense and unfamiliar feelings in me and I fear that my reactions to these feelings might be misunderstood.
I hope my ability to cope and your ability to understand will improve as I share my feelings with you.
I want you to understand.
You may describe me as an overreacted, stressed out, perfectionist, too serious person. I get that and I can relate to that sometimes.
However, I would like to describe myself as struggling, muddling through, sorrowed, heavy burdened.
My being a working mom makes me feel guilty and ashamed.
I feel like not being there enough for my kids, not performing perfectly enough at my work, keeping all the balls in the air and waiting for one to fall down.
This makes me feel angry, exhausted, sad, tired and lonely.
I feel angry, because I cannot seem to be able to control it at all, no matter how hard I try.
I feel exhausted, because I keep running from here to there in practice and daily life, as well as in my head, going over and over the to-do-lists that I make up in my head.
I feel sad because I don't find time in this busy schedule to enjoy two things in life that I cherish so much: my kids/family and my work.
I feel tired because of all this work, plus all the emotions I am going through… this takes a lot of energy.
I feel lonely because although I rationally know I am not the only working mom struggling, everyone else seems to be doing just fine and have it all perfectly managed.
You can help me. I know you care about me and I know my struggling through this working-mom-thing affects our relationship.
My sadness causes you sadness: what hurts me, hurts you too.
I believe we can help each other through this sadness. Individually we both seem quite powerless, but together we can be stronger. Maybe some of these words will help us to better understand my experiences.
I need you to understand and sit with me in this. Please don't fix it for me by giving advice about how to make arrangements, because this will make me feel even more inadequate.
I need you to reassure me as a good mom.
Tell me that I am doing great, and be specific about this.
Tell me what I am doing good.
Remind me of how well my kids are doing, how great they are, and how my being a working mom is a good example to them.
I need you to assist me.
When I am exhausted, give me a break, if only for five minutes. Take the kids and give them a fun time, so I can get myself back together to enjoying it all again by hearing their laughter.
Encourage me to maintain my sense of humor and guide me to find joys.
Encourage me to find laughter in my struggle, to be grateful of all the beautiful things we have received, to enjoy this together, and find energy and strength for the moments to come.
~M.B
——————-
It is my hope that you use this as an 'open' letter;
A letter you can borrow from and alter to fit your own words. Your own unspoken struggles. Your own area of vulnerability.
I thank the author of the letter, the woman who was daring greatly by sharing it with all of you!
Can you resonate with the letter?