If you are like any of the mothers I talk to, Mother's day makes you think… about your mother (and her mothering), and your own self as a 'mom' (and your own mothering).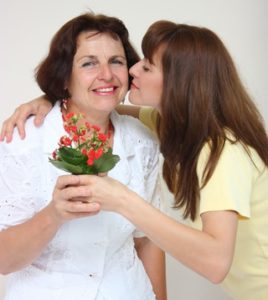 Here are a set of questions to guide you in your pondering and processing: 
Your Mom (and her mothering)
(Also applies to Step Mom/Foster Mom/Surrogate Mom/Grandmother):
What makes her different?
o   Not all moms are the same. Every one mothers in her own 'signature' way. What makes your mom unique?
o   Motherhood comes with sacrifices. Some are visible, some are invisible. What do you think your mom had to sacrifice?
What traditions did she hand to you?
o   From holidays to favorite meals to celebration rituals…What do you find yourself doing with your own family that was inspired by your mom?
What are the qualities you admire in her?
o   Think of her special characteristics: giving, rescuing, managing, leading, nurturing, caring, listening, being. Which of the qualities have been 'transferred' to you?
What values did she instill?
o   What did she stand for? Forgiveness, compassion, courage, honesty, family, education…
What messages/sayings did she repeat?
o   We can all hear our moms through their sayings. What expressions are imprinted on you?
What have you learned from her about being a mom?
o   What lessons make the foundation for your own motherhood? What lessons did you leave behind?
Your own self as a Mom:
What things did you learn about your mom by being one?
o   Becoming a mother can open your eyes to appreciate a lot of what your mother did and endured. What have you realized about her from your own mothering journey?
What are you learning from your children?
o   Every child is here to teach us different life lessons. Have you changed your perspective or beliefs about something as a result of having children? What 'lessons' do you keep coming against?
What things have you learned about yourself by being a mom?
o   Motherhood is a life-long journey. It is filled with many responsibilities, rewards and challenges. Your growth and development is entwined with growing your children. What self-discoveries have you made? In what ways are you growing?