The documentary film called Miss Representation was produced by Jennifer Siebel Newsom.  It stemmed from her own fears of raising a daughter in today's society.
In the film, Jennifer acknowledged her own fears of inadequacy, a battle with eating disorder, and a need to conform to male ideals and win male approval along her acting career.
Watch the trailer to see the powerful effects of the media in shaping our minds and our lives:
For many of us, mothers of daughters, the question is: how do we raise our girls to be confident, fulfilled, and whole when their lives are overpowered by the media?
Another question – equally important, is: how do we teach our husbands and sons to relate to the female self in healthy and respectful ways, counter to the hyper-masculine behaviors adopted all over the media?
After watching this compelling film, the audience in the theater – almost exclusively women, had one question in need of an answer: what can we do about it?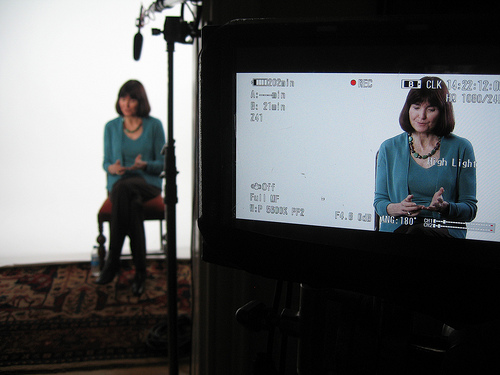 Here are a few starting points:
1. Carefully monitor yourself: watch your self-talk and the messages that you communicate to your sons and daughters about yourself. Avoid "I am so stupid", "I hate my thighs", and "I'm not good at…"
2. Highlight your children's core competencies and strengths. Complement them on their skills and capacities. This will enhance self-esteem and self-efficacy.
3. Treat other women and mothers with respect and suspend judgment. Shine your Light on them and mirror their brilliance. Avoid using degrading and demeaning labels for women you interact with.
4. Talk about emotions. Expand the conversation with your husband and sons about identifying, expressing and attuning to their own and others' emotions. Emotional intelligence is critical to forming healthy, long-term, and functional relationships.
5. Mentor other women. If you have walked the path, what do you have to offer? Who can you support today with your experience in business, parenting, presentation, leadership, or any other field?
6. Open the dialogue. Watch for signs that your teenage daughter is trying to conform to media ideals or that your son is struggling with doing the 'macho' thing. Ask about the pressure to be, play, perform, win-over, measure up…
7. Encourage leadership. Leadership starts from within. Foster self-expression, critical thinking, and inspiration for leadership in your home environment and in your community.
For other ideas and to listen to Jennifer's full Ted talk click here:
http://tedxwomen.org/speakers/jennifer-siebel-newsom/
To learn more about Miss Representation go to:
http://www.missrepresentation.org/take-action/
What is one action you can take today?