"When you get into a tight place and everything goes against you, till it seems as though you could not hang on a minute longer, never give up then, for that is just the place and time that the tide will turn." ~Harriet Beecher Stowe
Maybe you have 'done therapy' before.
Maybe you are in it now.
Maybe, like most of us, you are somewhere on a continuous path of inner-work.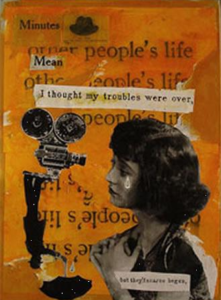 Wherever you are on the journey of self growth,
there comes a point where you find yourself saying:
"I've been here before"
and
"I thought I was done with…" [Fill in the blanks]
…. I thought I was over with…
my past,
my transition,
my pattern,
my shame,
my grief,
my triggers…
Only to realize here you are bumping squarely against it once again.
As the year coming to an end, ask yourself:
1. What repetitive theme is showing up for me again?
2. What are my main triggers? List the most familiar ones.
3. What am I working through now? Name it for yourself.
4. What one lesson am I taking with me to the year ahead?
Along different points of our soul's growth, we will be 'tested' in new ways.
We are never 'done with it', we are merely WORKING THROUGH IT again, and again, and again.
This holiday season, allow yourself to light your way through.