1. Decide who you want to BE.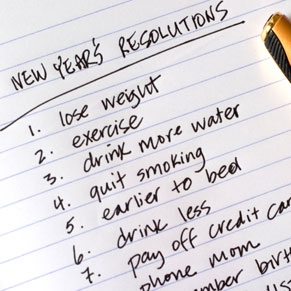 Most resolutions fail because they are focused on the "doing" or the "having".  This year, instead of thinking about what you want to do or what you want to have, focus on the being.
You might set the intent to be gentle with yourself. To be caring. To be creative. To be inspiring. To be mindful. To be connected. To be healing. To be courageous. Be different.
Decide on whatever BEING state you choose.
Long ago, I chose to be 1] healing (my natural 'gifts' have led me to become a psychotherapist to serve and heal others. Healing comes in many dresses, you can 'wear' one of them), 2] empowering (since I met many girls and women who needed to be empowered in their lives), and 3] serving (It took me a while to find how I can serve the world from my deepest gifts, yet being of service has been a long-standing value of mine).
2. Write it down.
Write it down and post it somewhere meaningful.
Examples: On an inspiration wall, on your desktop, in your journal.
Somewhere you are likely to look at and remind yourself.
Writing it down gives your intention a place to exist, and brings clarity to your being this year.
3. Include yourself!
Include yourself in the intent. If you chose to be compassionate or loving, be loving and compassionate towards yourself. If you chose forgiving or patient, be willing to forgive and be patient with yourself.
So many mothers forget themselves! Your intent is about being for your children and others AND also for yourself.
Will you lose your 'being' sometimes? Yes! We all slip in and out of being states. Yet, when you 'lose' yourself, or feel overwhelmed, or anxious, this will anchor you and ground you, and will impact how you start your day or go about your week.
4. Be the observer of your own thoughts.
Most women state their intentions and then 'beat' themselves up for not being able to fulfill them.
Practice noticing your thoughts. Watch your thoughts as if you are a curious child. Indicate to yourself when you are moving to self-criticism, anxiety, worry, or negative thinking. No judgment, just noticing!
The more you practice, the more you move into self-awareness and mindfulness.
Kindly let go of the harsh thoughts and allow your intentions a place of their own.
5.  Select your words.
Language is powerful, so carefully select your words!
"I intend to be deeply connected to my daughter" is different than "I will try to connect with my daughter".
Once you state your intention, mindfully choose the words that resonate with you.
How you word things can impact the power of your intention and your level of commitment.
6.  Retreat to connect with your intentions.
Create your vision board in the company of other women. We will help you select your words and map out your intentions in a creative visual masterpiece.
7.  Ask for help and be open to receive.
Most people are in the mindset of "I need to do it on my own".
Remember – asking and receiving help is not a sign of weakness, as it is a sign of resourcefulness and self agency. "No man is an island" the saying goes. I meet too many women who are isolated and tired from being their own islands. Reach out to get clarity on your intentions, your gifts, and your aspirations. Find the help you need to re-define, re-align, and move-on with your life intentions. So when you are faced with decisions, obstacles, or old patterns, you are not 'stuck' or alone. A professional, collaborative relationship is there to support you, and 'hold' you as you navigate the changes you crave in your life.