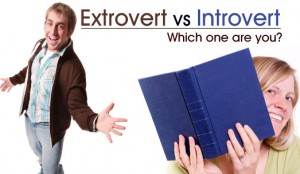 We live in an extroverted culture where the noise of social stimulation increases on a daily basis.
A Recent Article in the New York Times called  The Rise of the New Groupthink talks about the extroverted bias that is dominating our world.
From team work and groupthink in workplaces, to desk-pods in our kids' classrooms, the shifting trend is clearly moving towards the extroverted style of higher stimulation and collaborative environments.
This is following the school of thought that believes that these social conditions are critical ingredients for innovation, productivity and creativity.
But how do we know if we (or our children) thrive or survive in these environments?
Introversion and extroversion are two ends of a continuum. Where you fall on this continuum depends on your natural preference.
One way to find out where you are on the continuum would be to take a personality assessment, like the Meyers-Briggs. (Please contact me if you are interested in taking the assessment).
Or simply begin to ask yourself these questions:
1)    What energizes you? Extroverts need environments that produce high stimulation (for example, lots of social interaction, and/or noise). Introverts need lower stimulation environments (such as one-on-one or intimate group, and minimum noise).
2)    How do you recharge? Extroverts recharge themselves by going out, interacting socially, and focusing on the external world. Introverts recharge by taking time for self, and focusing on their internal world.
How about your children?
1)    Extroverted toddlers would tend to roam around and explore their surrounding. Introverted toddlers would stick closer to their moms/caregiver, and appear withdrawn or reserved.
2)    Extroverted children will talk more freely and ask more questions. Introverted children will learn by sitting still, observing and taking more time for reflecting.
What about in your relationship?
1)    Extroverted partners would have a greater need to socialize. The introverted partner would prefer to stay home more, or to have more intimate, small gatherings with close friends.
2)    Extroverted partners would tend to solve conflict in a more confrontational style. Introverts would prefer a mild conflict, and may feel under attack when confronted by their extroverted partner.
If you or one of your children identify with the introvert profile, here are some further resources that would help you understand how introverts navigate their way in our extroverted world:
Talks:
1)   For a journey inside the introverted mind:  Susan Cain's Ted Talk : The Power of Introverts
2)  The Power of Introverts in a World that Can't Stop Talking by Susan Cain   (For an insightful talk + a great Q&A consider watching all the way to the end of the Google talk)
Books:
1)    The Introvert Advantage: How to Thrive in an Extrovert World
2)    Quiet: The Power of Introverts in a World That Can't Stop Talking
3)    The Hidden Gifts of the Introverted Child: Helping Your Child Thrive in an Extroverted World
Graphic Image from www.spinsucks.com
For an insightful talk + a great Q&A consider watching all the way to the end of the Google talk: