I hear mothers around me who are looking to reenter the job market, change their career or 'find that job' that they dream of.
For many mothers, a big shift has happened. After staying at home and mothering, they do not wish to r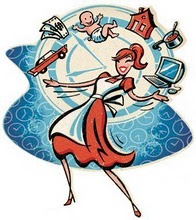 eturn to their old work place. I commonly hear: "I cannot make myself care about my previous job". This is because mothering is a grand life transition. We simply don't see the world again through the same eyes. We now hold different values, priorities, and outlook. Our lifestyle has changed and so has our inner world. For this reason, mothers who make the choice to go back to work are looking to do meaningful work. Once they commit to juggling the home and work into their 'beyond-busy' schedules, they want to do work that resonates. That's on purpose. That's part of their calling. Or part of their mission. A job that is aligned with who they are as a person.
I sometimes hear from women who deep inside know they have stayed far too long in a work situation that was unhealthy. Many professional women aren't happy with their jobs. Many are overlooking the effects of job dissatisfaction on their health. Many aren't listening to their mind or body telling them to leave their job, change environment, or reinvent their career.
So if you are looking to find work or to transition to another career path, take a stock of:
Your life style
Your skills
Your strengths
Your personality
Your dreams
And aim to do what is a true extension of yourself.