Daring Greatly is a newly released book by Brene Brown, which made it to the #1 NYT best seller list. It is a profound book about the way we parent, live, and lead our lives.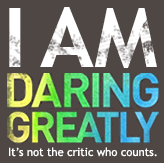 Watch the book trailer here.
Brene, a qualitative researcher at the University of Houston, tells the story of what holds most of us back from being our true selves and daring greatly with our life + work.
Here is the quote she refers to as the premise of her book:
"It is not the critic who counts; not the man who points out how the strong man stumbles, or where the doer of deeds could have done them better.  The credit belongs to the man who is actually in the arena, whose face is marred by dust and sweat and blood; who strives valiantly; who errs, who comes short again and again, because there is no effort without error and shortcoming; but who does actually strive to do the deeds; who knows great enthusiasms, the great devotions; who spends himself in a worthy cause; who at the best knows in the end the triumph of high achievement, and who at the worst, if he fails, at least fails while daring greatly . . ."   –T. Roosevelt
In her eloquent way, Brene fills the book pages with examples of how we experience shame, mostly when we feel vulnerable. We try to shut-down vulnerability and shrink ourselves in our attempt to gain approval and avoid criticism & judgment.
When you find yourself cutting-off joy…
When you play down your achievements…
When you worry about what every one else will think…
When you keep yourself small, less-than, and inadequate…
Can you find ways to quiet the voices that tell you:
'You are not good enough'
And
'Who do you think you are?'
We need your work,
We need your parenting,
We need your ideas,
We need your contribution.
We need you to show up to your arena:
your mothership,
your relationship,
your leadership,
your body of work,
and dare greatly.
You are enough.